Thursday, September 26, 2013
Glee, but instead of show choir, it's marching band.
I mean, Drama, quick relationships, slow relationships, rebounds, the flings we don't talk about. Not to mention the competition aspect of it all, and band rivalry.
Sunday, November 25, 2012
I MISSED MY WARBLER BABIES.
I didn't realize this until I watched the superhero glee episode. :)
I Mean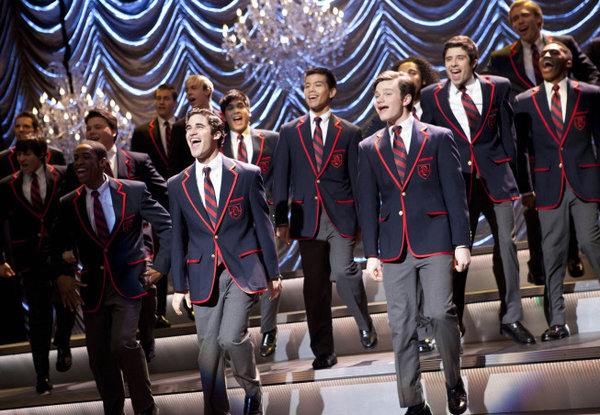 LOOK
HOW
MUCH
FUN THESE GUYS HAD.
Tuesday, July 17, 2012
Friday, July 13, 2012
Monday, July 9, 2012
"
[Blaine] built robots, just really handsome guys to surround himself with that believe in his ideals, that sang the songs that he wanted, sang in perfect harmony, did everything that he said, and so he runs the entire school. He is the principal, creator and master of all that is Dalton. And he just programs them to do his every will. The reason why he falls in love with Kurt is that he's a human being.
"
Sunday, July 8, 2012
Saturday, June 9, 2012
i want a klaine lifeguard au where kurt is a lifeguard and blaine and the warblers go to the pool one day and jeff or s/t pushes blaine into the pool and he hits his head on the floor of the pool and knocks himself out and kurt has to dive…
Wednesday, June 6, 2012
Wednesday, May 2, 2012
Doctor Who fans:

New season this year!

StarKid fans:

New tour this year!

Glee fans:

New season this year!

Hunger Games fans:

New movie this year!

Harry Potter fans:

Sherlock fans:

Harry Potter fans:

Sherlock fans:

Harry Potter fans:

Sherlock fans:

Harry Potter fans:

Sherlock fans:

Harry Potter fans:

Sherlock fans:

TWO YEARS.

Harry Potter fans:

I want to die.
Tuesday, September 20, 2011
Saturday, August 20, 2011
Thursday, August 18, 2011
You know what I think is the saddest thing about being in this fandom?
 i understand, I kinda watched glee before, but i wasn't really into it, like. I could watch it the next day. I knew Darren before glee (only, like… 2 months before however) and then glee became kind of an excuse to see more DC. THEN i got sucked into the ACCTUAL storyline. I LOVE the Karofsky stuff, and i may seem like a horrible Gleek, but i think he can re-deam himself. Im not saying what he did was right, but.. He's learning. I love that we're getting a new character (PLEASE BE DAMIAN.. please? (Dont really mind anyone else, i just think he'd be the most original character.)) I love that they all have their insecurities. i love that their all outcasts. But at school, or when im out being social for once, I feel like if i talk about it with anyone but the people who know im obsessed, They'll be all "you watch that?" Because (an im not racist) the mexican chicks ARE MEAN where I live. (and im being REALLY nice.) and for some reason, they ALL HATE ME. SO, i see no reason to provoke them further. I flail about it with my friends, and the drama council people, and the band people (who make fun of me for it, but understand so its not that bad.)
And i know I will flail, no matter who Kurt is with, And im sure there are some people there with me.
I want Tina to sing a full song.
I want more PapaBear!Burt
I kinda wanna meet kurts mom
I want more Max Adler (He's so Cute! :) )
I want less Finchel drama
Unpopular opinion. Wall of text. Other crap. not under the cut, cause the top is.
Tuesday, August 16, 2011